For more than 30 years, Joyce Brocaglia, founder, CEO and president of Flemington-based Alta Associates, has helped place C-level executives with leading companies in roles such as chief information security officer.
Now, Brocaglia said she wants to help employees at all levels get into the boardroom, while also increasing the pipeline and diversity of qualified candidates.
"Given that digital transformation, cybersecurity and diversity are all board-level imperatives, we believe that our timing could not be better," she said.
BoardSuited®, Brocaglia's recently launched affordable and accessible digital education company, teaches executives how to accelerate their board-readiness and maximize their credibility to get the attention of nominating and governance committees.
"Our goal is to give professionals of all backgrounds the education and tools they need to get an early start on assessing their skills and identifying gaps so they can course correct and gain the qualifications necessary for board service," she said.
Brocaglia has spent her entire career advising executives, building world-class organizations and developing leaders, she added.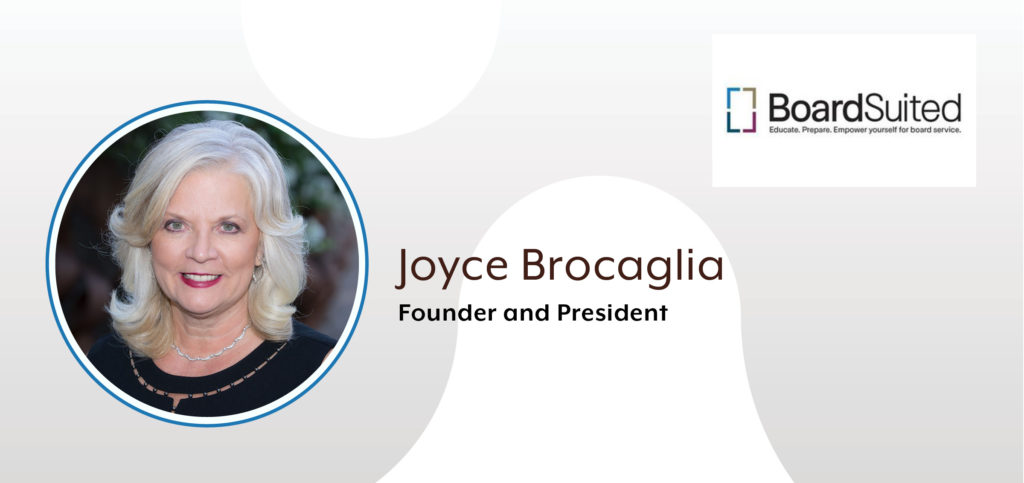 Alta Associates, her executive search firm specializing in cybersecurity, information technology risk management and privacy, has been in existence since 1986.
"But, because that is a male-dominated field, 17 years ago I also founded the Executive Women's Forum on Information Security, Risk Management and Privacy," Brocaglia said. "We are now the largest member organization dedicated to the engagement, development and advancement of women leaders in the field."
Brocaglia said she also has personally sat on a number of advisory boards and is currently a trustee for Drew University.
"I've therefore had the opportunity to gain unique perspectives from both corporations and the executives who lead them," she said.
That is why she often is asked how one can obtain a seat on a board, she added.
"It makes sense that I am often asked this question, because we are seeing a surge of interest in diversifying boards and companies are beginning to recognize the value of having someone with cybersecurity knowledge as a board member," Brocaglia said.
However, in her research, Brocaglia said she discovered there are many great programs that train existing board members and C-suite professionals, but few that prepare executives seeking their first board appointment.
There also often exist multiple barriers to entry.
"You often have to be nominated as a member of an organization or already on a board," Brocaglia said.